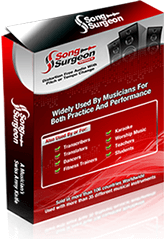 Song Surgeon Trainer
A Musicians Must-Have
Practice Tool
Easy-to-use app, slow down app that enhances your learing potential by an average of 614%*
Verified Sign Ups

4463156
Fully functional, 4 hour demo. No calendar expiration. Clean install, NO co-installation of other unwanted programs.
Download, install and begin using in less than 5 minutes
Full, 1 year support plan and 90 day, money- back guarantee
* Results from a group of 197 guitarists who were survey and asked how much easier it was to learn with audio that had been slowed to 50%.

We PROTECT your personal information and do not sell, rent, or giveaway your email address.
See our Privacy Policy for more details.

This is the exact same product used by thousands of customers in more than 107 countries worldwide to achieve high quality audio key and tempo change. Download it now and put it to work for you today!