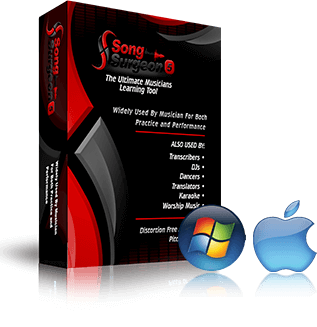 Song Surgeon Pro Demo


Every Musician Should Own

High quality, distortion-free key and tempo change for practice or performance
The only slowdowner that automatically detects and displays key, tempo and chords for you to use.
Fully functional, 4 hour demo, with no calendar expiration. Sufficient time to change key/tempo on more than 50 songs. Virus/malware scanned. Clean install with NO co-installation of other programs.
Survey reveals slowing down helps speed up learning an average of 614%
Download, install and begin using in less than 5 minutes
Used by guitarists, banjo players, violinist, and musicians that play over 40 different instruments
The form below will be used to verify your email address
DOWNLOAD NOW
Other Authorization Options
Verified Sign Ups

3545266

We PROTECT your personal information and do not sell, rent, or giveaway your email address. See our Privacy Policy for more details.

I encourage you download our free demo right now, and give Song Surgeon a try today. Find out why Song Surgeon is now used in more than 120 countries worldwide to achieve high quality key and tempo change.