Custom Key and Tempo Service
for just
$9 bucks!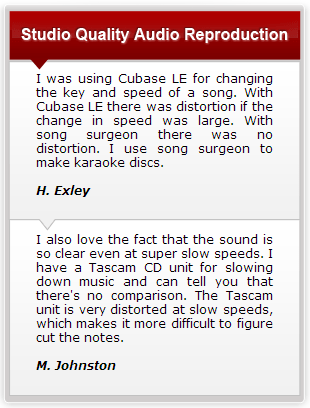 Song Surgeon's Custom Key and Tempo Service enables you to hire our audio experts and have us make key and tempo changes for you. Whether you have 1 or 100 files, you can count on us to get your job done right, with the highest quality audio possible. We'll use our dual algorithm system, and also apply formant preservation if needed to preserve the tonal qualities in any backing vocals that may be present.
Here is what you get with this service:
Work is done to your specifications
Can request key change, tempo change or both on a single file
2 business day turnaround
1 revision
At the end of the ordering process you will receive an email that will contain instructions with a link to a fulfillment page where you can upload your file(s) and send us specific work instructions.
Remember your cost for this expert service is just $9 Bucks…
Num
Products
Prices
Song Surgeon Custom Key and Tempo Change Service
$9.00
Total
$9.00

This site is protected by 256-bit SSL encryption. This is the same level of protection provided on sites like Amazon, Microsoft, Apple and other major companies.
Any information you provide is safe and will be handled in accordance with our privacy policy. We do not sell or rent information to ANY outside party.
Song Surgeon offers a 60 day, 100%, no-risk, money back guarantee. If you are dissatisfied in anyway, just contact us within the 60 day period and we'll cheerfully issue a refund.