Song Surgeon offers a free, online, key and tempo change tool. If you only need one or a few files changed this may be a perfect solution. If however, you need many files changed, need very high quality, and/or need other features like the ability to change only part of a file, then you may want to look at our desktop product, Song Surgeon 5.

The key and tempo tool can be found here:

http://songsurgeon.com/page/ssweb.html

The first time you use it, you will be required to set up a free account with us. Once the account is set up you an log in an use this free service at any time.

Here are the steps, once you are logged it. What you see below are only pictures; the buttons are not functional.
To begin, click the "Choose a File" button and then select a file from your computer. Note the limitations in file size and format.

In step 2, you can change either key or tempo or both. You can change key in half step increments up or down, or you can change by cents which is 1/100th of a semitone.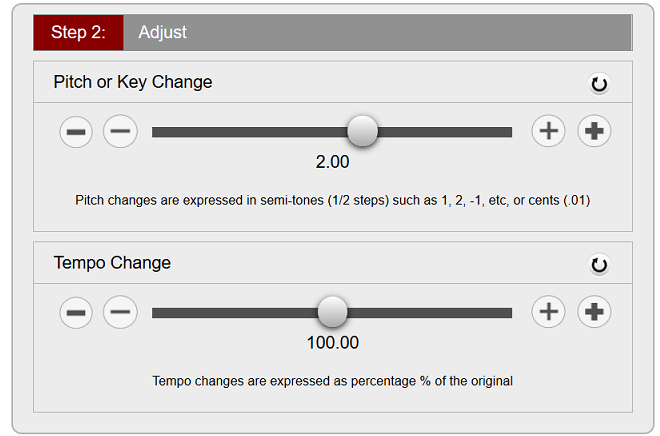 Once you have selected the changes you'd like to apply in Step 2, you click the "Process My Changes" button. You will see a progress indicator appear on the screen as our system applies these changes to your file.

Once the processing is completed, Step 4 Download will be the only button you see on your screen. Click it. Once you do you will be prompted to select the file type format as shown in the second picture below.

Our system will then convert the file to the format you have selected and provide a download link as shown below.

Our system is easy to use and it is free. If you feel you need more robust capabilities, we suggest you take the fully functional demo for Song Surgeon for a test drive. You can find that here.