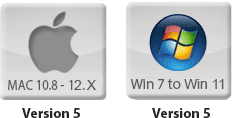 Written Documentation
There are two types of Written Guides: a Quick Start Guide (QSG) and a User Guide (UG). The QSG is a guide that walks you through the downloading, installation, registration/activation and the opening of a file. It is designed to get you up and running quickly, hence its name.
The User Guide (UG) is a much more detailed document that provides written instructions for all of the major functions found within Song Surgeon. In addition to the pages on this website, the QSG and UG can be accessed from the Help Button of every version of Song Surgeon. In addition to these written guides we encourage you to also view the training videos.
Please click the link below to navigate to Written Guide of interest.
Links to User Guides
Version 5 for Windows and Mac


Version 4 for Windows

Version 4 for Mac

Version 3 for Window

Version 3 for Mac

Version 2 for Windows

Version 2 for Mac