Audio or Music Key Change Samples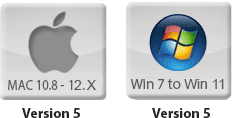 When it comes to transposing or changing the key of music in a song or audio file, there is no better product than Song Surgeon. In fact, its audio quality after key or tempo change has been compared favorably with high-end music recording and editing software costing many hundreds or even thousands of dollars.
To accomplish this we use two separate high quality audio algorithms. One is for small changes in pitch and tempo. This is called P mode for performance situations where a song might be changed by a half or a few half steps or tempo changed by ± 10%. Generally speaking, the P mode is for situations in which the changes will be less than 15% of the original.
The second algorithm is used in what we call the T mode for Transcribe. The setting is used where more significant changes in tempo and pitch will be made. An example would be where a guitarist wants to learn a rapid guitar riff and needs to slow it down to 50% or even lower.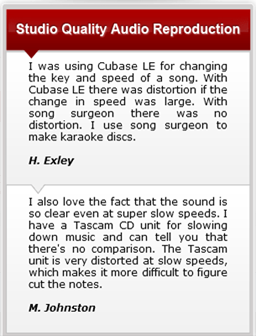 A third feature found in the Pro model of Song Surgeon is formant preservation. You may know it as the munchkin or chipmunking quality heard in vocals when key is changed. Many karaoke tracks have backing vocals. When the key is adjusted on these tracks the use of formant preservation, a feature contained in Song Surgeon, preserves the natural tonal qualities of the vocals thereby diminishing or eliminating this undesired affect in tracks where the key is changed. Rather than have us convince you of the quality of audio after key and/or tempo change, take a listen at the samples provided below and determine this for yourself. In most cases, if you didn't know which was the original file was, you wouldn't be able tell the difference between the original and the changed file based upon quality.
Rock Guitar Riff
Tempo - 100%
Tempo - 75%
Tempo - 50%
Tempo - 25%
Karaoke Backing Track
(with background vocals)
Original
Key change 2 steps higher


(chipmunk distortion)
Key change 2 steps higher


(with Formant Preservation applied)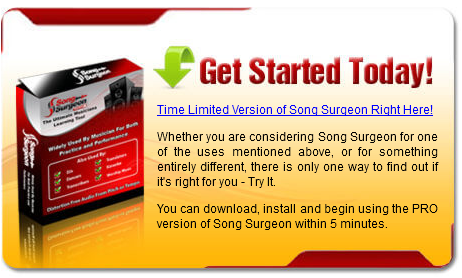 In addition to its music transposition or key change capabilities, Song Surgeon is loaded with additional features such as that you will find useful and will quickly make it your "go to" audio tool.
We encourage you to click the graphic to the right and grab our fully functional demo and take it for a test drive today!