Customized Guitar Backing Tracks: Variable Tempo and Key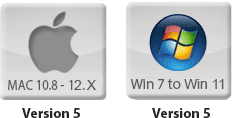 Did you know your backing tracks are no longer tied to a specific tempo or key? You might find that hard to believe, but it's true. There are 10 FREE examples below. Download one or download all of them.
How can you transform these ordinary mp3 files into variable tempo and key files? By using Song Surgeon. Click the big, red, download button on the right and download and install Song Surgeon on your Mac (OSX) or Windows computer. After you open the program, you will see toward the bottom of the main interface, sections for Tempo and Pitch. Using the + or - buttons or the preset buttons, you can change tempo or key or both at once. This will allow you to customize the backing track for your use.
Once you have modified the key and/or tempo to meet your needs, simply EXPORT the file to create a new audio file with your changes embedded and you are done.
If you like the ability to customize backing tracks and make multiple tracks of various tempos and keys, then you might want to consider purchasing Song Surgeon. In addition to these basic functionalities, the Pro version also contains a 31 band EQ, a YouTube downloader, audio editing capabilities and much more.
Below is a brief description of each backing track and a link to download the adjustable key and tempo, cPod file.
Backing tracks