Song Surgeon Video and Audio
File Conversion for Musicians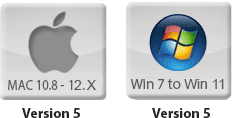 There are a ton of music file conversion programs out there. Many are good and many are not. Most offer free trials that allow you to try the program to determine if it fits your needs.
Some of these programs were made specifically for file conversion only; other programs were music software programs that happened to have this file conversion utility as one of their many features. Song Surgeon, pictured below, is one such program. Song Surgeon can convert between the most popular audio file formats including: mp3, mp4, wma, m4a , aac, aif, flac, wav and several others.
In addition to these audio file formats, Song Surgeon also can open most common video file formats and convert these to audio files. The list of video files it can convert includes: avi, mpeg4, mpeg, mov, flv, wmv, and rm.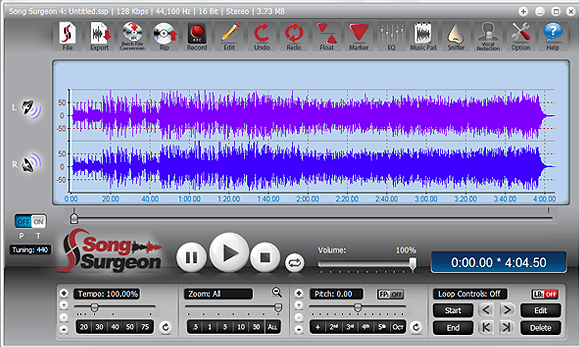 Video to Audio Conversion
Song Surgeon's ability to convert video to audio means that you can use Song Surgeon's built-in YT Downloader to find a song, music, or lesson on YouTube that you'd like to have and download it and convert it to audio. When you see or hear people talk about video to mp3, YouTube to mp3 or even mpeg4 to mp3 this is what they are talking about. The conversion of video into an audio file.
Sample Frequency or Sample Rate Conversion
In addition to these more fundamental conversion capabilities, the Pro version of Song Surgeon can also convert between mono and stereo files. It also has the ability to change the sample rates or frequency. For example, the standard frequency or sample rate for digital audio files is 44,100 Hz. Song Surgeon allows you to modify this sample rate from 11,025 up to 96,000Hz.
Alternative Tuning Conversion
Lastly, by way of audio conversion functions, Song Surgeon Pro can convert files to an alternative tuning. For most people this may be a bit esoteric, but if this is something you are looking for you have come to the right place; there are very few products which allow you to easily convert to a different tuning. The Pro version of Song Surgeon has the ability to change the tuning of music or a song. It works with the standard or default A440 tuning, but if you'd like to change something to an alternative tuning, Song Surgeon can to this for you. It provides three alternative tuning options 432 (Verdi Tuning), 442, and 444.
Some music on the Internet is DRM (digital rights management) protected and cannot be opened directly by Song Surgeon. Some formats like m4p files are always protected. Other formats like mp4's or wma's can be protected but in many cases are not. If a file is protected unless you have the digital license that accompanied the original purchase of the mp4 song, you cannot play, open, or convert this in Song Surgeon.
The good news is there is an easy work around to DRM protected files. Simply burn these protected files to a CD, and then rip them off with any standard ripper, including Song Surgeon's built-in CD ripper. These processes of burning and ripping strips the encryption from the file and makes these files accessible to Song Surgeon – and any other media player for that matter.
Another common way to remove this encryption if files are stored on an Apple device is to Export the songs from the device (or iTunes) and save in an mp3 format to your computer, you will have removed the encryption and should now be able to play this on any computer or player.
In addition to its ability to convert between among audio and video formats, Song Surgeon's main features are its ability to slow down audio and change the key of any music or song. And it does so with unsurpassed audio quality that that matches and sometimes even surpasses what thousand-dollar studio quality software products can offer.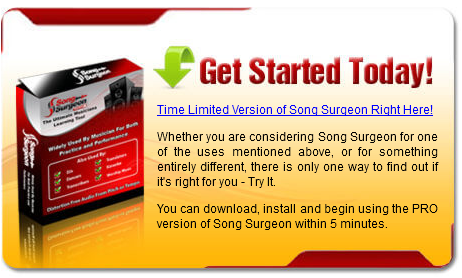 We encourage you to click the demo button in the upper right hand side of this page and take our fully functional, 4 hour demo for a test drive. Song Surgeon runs on both Mac (OSx) and Windows operating systems.
In addition to its music transposition or key change capabilities, Song Surgeon is loaded with additional features such as that you will find useful and will quickly make it your "go to" audio tool.
We encourage you to click the graphic to the right and grab our fully functional demo and take it for a test drive today!