Church Music - Praise and Worship
Accompaniment Tracks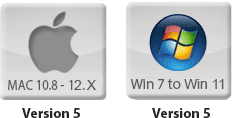 There are many good websites that offer quality backing or accompaniment tracks. One of those sites that I like most is called smallchurchmusic.com. It offers more than 3500 quality tracks, from classical to contemporary, at no cost. It is a great place to start your search before moving on to other websites, or even a local Christian bookstore where you can buy these types of tracks.
The single biggest problem with these background or accompaniment tracks is that they are fixed and cannot be modified. For example, if you find a track and download Amazing Grace, it may be in the key of C, but you may prefer it in a different key, the tempo may be faster than you prefer, or it may have too many/not enough stanzas.
You are stuck; there is not much you can do about it. Whether it was free or you bought it, you get what you get and there is no easy way to change that -- that is, until now. What you will find below in this list of popular church or worship hymns and songs that you can download. You can also download a 4 hour demo copy of Song Surgeon by clicking the red button at the top right of the page, either for Mac or Windows. Once you have Song Surgeon installed any of these files can be opened and adjusted or customized by you. You are no longer constrained to the original tempo, key, or number of stanzas.
The only thing you will need to do is to learn something about HOW to operate Song Surgeon so you can learn how to change key, tempo, or the number of stanzas.
Using the basic functions of Song Surgeon are easy and intuitive. To help you with the more complex, learning curve features, we have assembled a series of more than 26 videos found on our video training page to which you may also want to refer.
100 Free Downloadable Adjustable Key & Tempo
Worship Music Tracks
Below is a listing of 100 popular Praise and Worship or Church music backing or accompaniment tracks. All of these are free. The only thing you must do to be able to use these is to register with our site. As soon as you register, this list of songs will be unlocked and you will be able to download any of them.
If you typically do a lot of key and tempo adjustments to music, you may want to consider the purchase of Song Surgeon. This will allow you to load any song or audio file and use all of Song Surgeon's powerful features.You can download a 4-hour working demo here.
If you have any questions, please feel free to contact us at info@songsurgeon.com