Tascam Guitar vs. Song Surgeon Version 5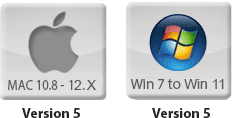 Tascam manufactures and sells a variety of guitar and vocal trainers. All of these products are similar and work in a similar manner. They all, roughly share the same strengths and weaknesses. There are at least five Tascam "trainer" products. Here is a list with a brief description of what they do:
CD GT1 - Guitar Trainer made for use with CD's only.
CD BT1 - Bass Guitar Trainer made to be used with CD's only.
MP GT1 - Guitar Trainer made for use with MP3 files only.
MP BT 1 - Bass Trainer made for use with MP3 files only.
CD VT - Voice Trainer made for use with CD's only.
M. Bellenir Says:
November 30, 2013 (Saturday) at 7:28 pm
The first thing I would like to say is, I'm a bass player and have used the the Tascam CD-BT1 and BT2 trainers for some time. I also play a little guitar. I have to say that the Tascam CD-BT1 and 2 were fine for awhile but I always felt like it didn't do the job as well as I had hoped. Then I came across "The Amazing Slowdowner" and thought I would give it a try and purchased it.
It worked a little better than the Tascam and I ended up keeping and using both the Tascam CD- BT2 and The Amazing Slowdowner depending on what I needed to hear and slow down, (CD or MP3) and then while searching the web for something better I came across the website for "songsurgeon.com. Finally, a product that really does what it says! No longer do I have to repeat parts over and over just to get to the point where I can hear what is really being played. And for the little bit of Guitar I play, it works perfect.
This songsurgeon software really works… I mean it. The total control of the EQ that you have is way better than the Tascam or the Amazing Slowdowner. And the name "songsurgeon" describes the software perfectly. You really can surgically cut the song parts you are trying to slow down and learn with precision. I only want to share this information with other musicians because I know I can't be the only one that has been disappointed with The Tascam Trainers and the Amazing Slowdowner. And just a point to add, I sold the Tascam and deleted the Amazing Slowdowner. You don't have to believe me, try it first for free and then decide.
Mike Says:
November 23, 2008 (Sunday) at 6:24 pm
Hello Here's my two cents. I love Song Surgeon period. When I first downloaded your program I was in desperate need of a easy looping device. My Tascam CD-GT1 Mkll was not getting the job done. Whenever I slowed the guitar part down the recorder made an underwater warble sound that got in the way of learning the piece of music. Also, what I really wanted and needed was a small loop of the intro, middle and end sections of the song.
Trying to make a loop on the tascam was a real pain let alone create and save three seperate parts. Forget it. I'd rather go back to my tape recorder.
Then one night in pure desperation I went searching for a software product that my do what I needed. I thank my lucky stars that your program was at the top of my internet search. After reading all about the Song Surgeon I decided to take the plunge and I pulled the trigger on your product. Was I ever amazed. Within minutes I figured out how to loop the song I was working on. I created and saved the intro, middle solo and the outro all on seperate retriveable loops that I created. And the sound quality was much better than the Tascam. No under water warble sounds.
Oh yeah, I sold my Tascam on eBay the next day. Now I tell everyone I know about your product even my friend who purchased the new Tascam digital mp3 player. His sounded just as poor as my Tascam CD-GT1 Mk ll.
The CD based products were the first on the market, followed by the MP3 based products.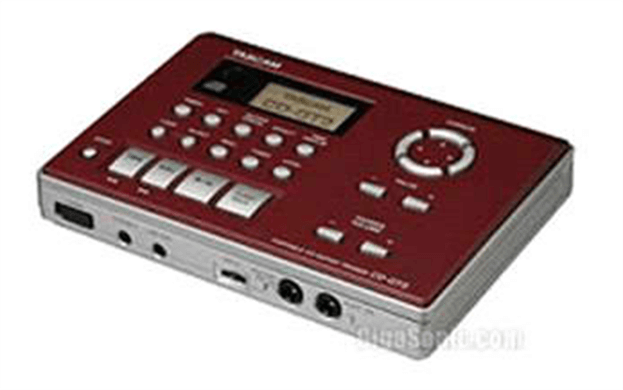 Literature Review
A review of the literature and customer reviews on the Internet yields an abundance of comments. After reviewing a number of these a pattern of problems begins to revealed. This is summarized below:
The sound quality is not great, but certainly good enough for practice. There is a rapid deterioration when music is slowed. The sound is described as jerky, garbled, and underwater.
The trainer units must be connected to a computer; they are supposed to be plug and play, but they can have problems booting up, they freeze up, and the on/off button is difficult to use. On a scale of 1 to 10 the average reliability factor given my customers seems to be around 5.
They do not allow the saving of loop points. So if want to practice a song again tomorrow, you must relocated and re-set the loop points.
There is a problem with them cutting off the last few notes of a song.
The MP models play ONLY mp3 files. The CD models play only CDs. Moreover, the CD models will only play original CDs not discs that you might burn yourself.
Song Surgeon Comparison
Song Surgeon is a software product price as low as $79. It is available in both a PRO and a Standard Version. The Standard Version will do everything that a Tascam unit will do and more. It is less money and has about 4X the features. And, from a sound quality standpoint, Tascam doesn't even come close to Song Surgeon's distortion free audio. In addition to pitch and tempo change, Song Surgeon detects the key, tempo and chords of a song as it is opened. SS also enables you to create (and save) practice loops, has EQ adjustment, a vocal reduction function, and allows the use of either CD's or ANY of the major file formats, including .wav, .mp3, .mp4, wma – and this is when compared to the basic version of Song Surgeon Standard..
Song Surgeon PRO, the more advanced model, runs circles around Tascam and still is less than money than a new Tascam unit. Feature-wise, the comparison is stunning when you see the differences (see the table below). Song Surgeon can take the place of all five of the Tascam units listed at the top of this article because Song Surgeon does not limit use to a CD or particular file format or to a specific instrument. In fact, Song Surgeon is used by musicians of all stripes. While guitarists are the largest group of users, drummers, keyboard players, violinists, fiddle players, harmonica players, etc all are using Song Surgeon. At last count we had 40+ different instruments represented by Song Surgeon customers. Similarly, the genre of music makes no difference. Song Surgeon works equally well across all types of music. Moreover, Song Surgeon is used for both practice and performance. Not only can you slow something down and loop it to help you learn better, but with Song Surgeon you can change the key or tempo slightly and then save these changes in a new audio file. We have many singers and performers who use Song Surgeon to make such changes and then use these files to sing to or as backing tracks.
The comparison table below highlights some of the main differences between Song Surgeon PRO and the Tascam Trainer products.
Song Surgeon vs. Tascam Comparison Table
Feature
SS Standard
SS PRO
Tascam
Key Detection
Tempo Detection
Chord Detection
Basic Editing/Recording
Formant Preservation
Automatic Click Track Creation
Sophisticated Scoring Function
Audio Quality
Excellent
Excellent
Fair
Tempo Change range
+400% to 10%
+400% to 10%
+16 to -50%
Pitch Change range
+/- 24 semitones
+/- 24 semitones
+/- 6 semitones
Loops Continuously
Allows Multiple Loops
Wave Form Editing
Cut and Paste
Insert Silence
Custom Loop Setting
File Change
Permanent & Portable
AV Downloading
Internal Project Files
Vocal Reduction
CD Ripping
Retail Price
$74.95
$97
$119-$299
Guarantee
Guaranteed 60 days.
100% money back
Guaranteed 60 days.
100% money back
30-60 days, vendor specific
Customer Service
Andrew Says:
January 16, 2009 (Friday) 10:08 am
I own and have used the Tascam Guitar Trainer. Personally I much prefer Song Surgeon, for at least two reasons. First I get most of my tunes through i Tunes which means I download them and can then load them directly into SS. With Guitar Trainer I have to burn a disc and even then it doesn't work because Guitar Trainer will only read original discs not burned CD's. Secondly SS is so easy to use compared to GT.
Brandon Says:
October 2nd, 2008 (Thu) at 09:23 am
Actually, i'm a beginning guitar player, an ok bass player, and a pretty good drummer- but i know i could use some work on all three. song surgeon sounds like the perfect learning tool. i've read about it for months, and it sounds like a great product- sure beats paying close to $300 for a tascam unit that does the same thing. Being able to slow music down without changing the pitch is great, and would help me learn a lot, i'm sure!
Carol Brooks Says:
October 2nd, 2008 (Thu) at 11:40 pm
I am sooooooooo excited to register to win this amazing software. I have played with a Tascam 50% speed reduction guitar trainer, and with Windows Media Player features for quite awhile. Neither of these will allow music to be slowed down enough and manipulated, so that the notes can actually be heard, and so that techniques on the guitar can be properly reproduced. I look forward to the release of this version of Song Surgeon. I believe it will do what I need. Yours truly, cab
The singular thing that some Tascam users have discussed with us, as an advantage over Song Surgeon is Tascam's portability. Tascam units are reasonably small and they can be packed up and taken with you. However, we don't think see any advantage there; as most notebook computers today are equally portable. And beyond this, with Tascam there is NO saving your changes to a file. If you want to practice a song in Tascam, each time you want to practice it you must re-open it. With Song Surgeon you can open a file once, make changes such as slowing down a file so you can hear it more easily. Then you can EXPORT this file from Song Surgeon and create a new audio file that will play on any standard audio player, whether this is your phone or tablet, or mp3 player. The ability to embedded changes into new audio files means that, with Song Surgeon, you don't need a computer or any other equipment. Simply load the changed files on your phone and you have everything you need to play them back at a reduced tempo. It beats taking your computer or a Tascam unit with you.

Multiple Algorithms - SS contains multiple time stretching algorithms to accomplish pitch and tempo change. This maximizes sound quality and provides distortion-free audio even at extreme changes.

Multiple Loop Areas - SS enables you to set an unlimited number of loop areas, not just one, which is the standard. Moreover, each loop area can have its own unique settings.

Wav form editing - SS has a number of useful wav form editing features. This enables users to cut and paste wav form data within an instance or between instances, thereby creating customized audio files for practice or performance.

Key, Chord and Tempo Detection - Song Surgeon is the only audio slow downer that contains all three of these "Detection" features.

Export - SS enables you to Export changes you have made to a file, thereby making them permanent. This new audio file can be played back in any other player such as an iPod, phone or MP3 player and the changes made in SS will reside in the new file.

MuseScore Compatibility - Song Surgeon is built to be able to have MuseScore run within it, thus allowing you access to a high quality scoring program while allowing Song Surgeon to save the MS project within the SS project file.
While the slow-down technology remains the most commonly used feature found in these types of programs, and musicians remain the most common users, the new version of Song Surgeon with its many new functionalities will certainly open the door to use in many other fields such as dance, exercise classes, transcription, karaoke, translation, and worship music to name a few.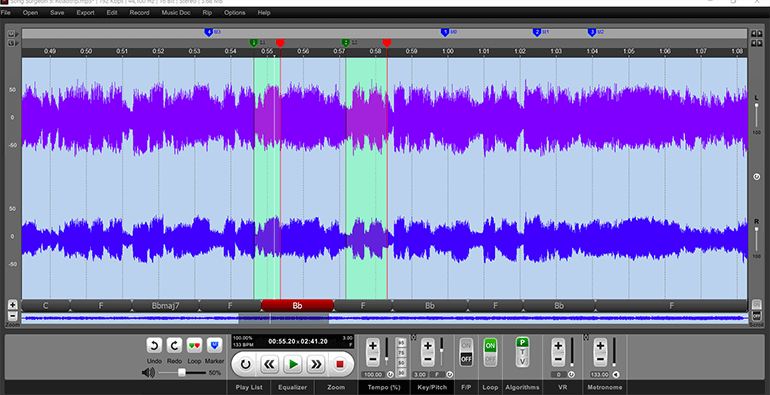 Song Surgeon provides a 4-hour fully functional working demo. This is 4 hours or run time and is not calendar limited in any way. You can use your time in one day, or spread it over weeks, months and years. Four hours is sufficient time to enable you to open, change about 50 files. However, we caution you to close the program when not using it to preserve this time. We also suggest that you watch the training videos found on the website before using the program, as these will help you get up to speed quickly with the operations of this very useful software. You can download the DEMO version from here.