Automatic Beat Detection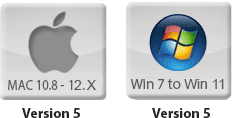 Song Surgeon Version 5 contains automatic beat detection. When you open a song, Song Surgeon automatically calculates the BPM of that song. This BPM is used to calibrate the tempo and metronome for that song as it opens in the program. To be specific, if the BPM is calculated at 120, that Tempo value will appear in the Time Display area above the main playback controls. This value of 120 BPM value will increase or decrease within this display as, as the tempo is adjusted up or down by the user.
Continuing the above example, the metronome setting is also set to 120 for this song, as the song opens. Thereafter this BPM value will can be adjusted by the user from this starting point.
Before implementing this feature we compared and tested several different technologies. Here is a summary of what we found:
1
The BPM readings from Song Surgeon Ver 5 were comparable to, and as accurate as, the best available technology.
2
The BPM technologies we tested worked well with Rock, Country and Pop music. They were less reliable with Jazz. They were the least accurate with Choral and Orchestral music where there often is no defined pulse.
3
There are times when the bpm reading may be off by 50%. This is due to the fact that the programs are not given the "metrical level". In other words, they are not told, and have no way of knowing, the time signature for each song, e.g. does the quarter note get 1 count, or the eight or the half. By default these programs typically will display the faster of the BPM rates.
Even when the numerical BPM value being displayed for a particular song is not correct, the program is detecting a musically correct pulse, i.e. in time with the music. For example Song Surgeon calculates the BPM of the song "Hotel California" to be 148. The true value from the sheet music is 74, or ½ that value. In the bigger picture it is irrelevant which value is used as the default value from which to increase or decrease the tempo, because either one can be used as a starting reference point from which change can be measured.
Below is a comparison table of BPM data comparing Song Surgeon to its competitors across a range of different musical genres.
Song
Surgeon
Competitor
1
Competitor
2
Competitor
3
Actual BPM
Rock
Hotel California
148
148
148
148
74
Baby, Now That I've Found You
118
118
118
117
118
Telephone Line
142
144
144
144
72
The Heart of the Matter
176
176
176
89
87
Louder Than Ever
139
NA
185
140
70
Pop
Candles
176
174
115
89
87
Just the Girl
111
111
111
112
112
Come Clean
117.58
117
118
117
58
Here We Go Again
142
142
142
144
143
Heaven
124.5
124
NC
123
NA
Orchestral
Vivaldi four Seasons - Winter
148
145
144
148
141
Arrival of the Queen
108.01
107
163
108
80
Hallelujah
102
172
NA
105
85
Mozart Piano Concerto No. 21
166
114
115
115
55
Pachelbel Canon id D
130
132.44
117
133
60
Jazz
Take Five
168
170
124
172
81
One Finger Snap
238
155
NC
92
128
Take the A Train
79
158
170
161
80
The Girl From Ipanema
123.74
125
123
126
61
Sing, Sing, Sing
108.54
108
NC
110
110
CHORAL
O Nata Lux (Lux Aeterna)
168
NC
NC
144
72
Like Snow (Midwinter Songs)
152
NC
NC
144
72
Lament for Pasiphae (Midwinter Songs)
138
NC
NC
136
66
Midwinter Walking
176
173
NC
112
86
Intercession in Late October
152
NC
NC
117
100
To learn more about Song Surgeon go to our main page. There you will find a video instruction as well as an overview of the major features found in Song Surgeon Version 5.