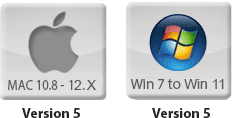 Version 5 New Features List
Below is a comprehensive list of new features found in Song Surgeon Version 5, followed by a brief description of each of these features.
Mid File Support
Version 5 will now support the opening and playback of mide (.mid) files.
MIDI is short for Musical Instrument Digital Interface. A single MIDI link can carry up to sixteen channels of information, each of which can be routed to a separate device.
Metronome

Version 5 contains a metronome that is automatically synced to the detected tempo or BPM of a song when opened in Song Surgeon. This metronome contains its own volume control so that the volume can be adjusted, as preferred, during playback of the loaded song.
L/R Channel Balance

The audio channels on Song Surgeon now have separate output controls, so you can adjust the mix of these two channels
Audio Algorithm Customization

Previous versions of Song Surgeon contain two preset audio algorithms, P & T (Performance and Transcription). Version 5 contains a third algorithm for Voice only (or a single instrument). It also gives you unlimited control over each of these algorithms so you can adjust or fine tune the settings
Formant Preservation Customization

Formant preservation is the feature that maintains the natural tonal qualities of the human voice when the key is changed. Without it vocals develop a munchkin or chipmunk sounding quality. Version 4 contained this feature but it was not customizable. Version 5 allows you to customize this the FP value, so it can be optimized resulting in the best possible audio quality.
Automatic Beat Detection
Beat Detection is a new feature that runs when a file is opened in Song Surgeon. This allows Song Surgeon to display tempo in both percentage, as it previously has been, and as BPM. Additionally the BPM value is synced to 100% upon opening so changes in tempo can now be made in BPM or percentages. Click here for more detailed information on Beat Detection.
Key Detection
Version 5 of Song Surgeon analyzes, and automatically determines the key of a song when it is opened. This key is synchronized to the key change feature, so that as key is adjusted up or down by half steps, the key of the song is updated. Click here for more detailed information on Key Detection.
Chord Detection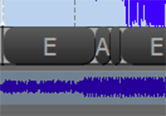 Another valuable feature found in Version 5 is chord detection. When a song is opened, the file is analyzed and the chords for that song are determined with a corresponding time stamp. These chords are displayed in chord bubbles in the main program interface during playback. Click here for more detailed information on Chord Detection.
Chord Chart Printing
The chords determined by Song Surgeon are added to the Music Pad module along with their corresponding time stamp. This chord-time table can be printed and becomes portable outside of Song Surgeon so you can share it with your teacher, friends, bandmates, students, etc.
Zooming to .1 Seconds
Version 4 could zoom to 0.5 seconds, Version 5 allows you to zoom to 0.1 seconds. This additional zooming capabilities allows you to more precisely define loops or edit selection areas.
Playlist Feature
Version 5 has for the first time, a playlist feature. This function allows you to import, iTunes or WMP play lists. It also allows you to create your own playlists.
File Search
The File menu of Song Surgeon has a Search feature that has been added. This feature allows you to type the name of a file (song or audio name) and it will search for this file on your machine.
SS Project File Migration Utility
Song Surgeon Project files cannot work when transferred to a new machine because they do not contain the underlying audio file, they only contain a path to this file. Once transferred to a new machine, the paths that were created on the old machine are unlikely to be the same on the new machine, nor is it likely that this paths and folders will contain the specified audio file. The File Migration Utility solves this by processing en mas, all of your project files and creating a portable version of them that has the audio file embedded. This files once transferred to a new machine will open and play.
Recording Module - Dubbing
We have added a dubbing setting into the recording module of Song Surgeon. This allow users to play a song within Song Surgeon (listening via earphones for example), and then record a new channel of data that is synchronized with the original song.
Detailed Editing Module

Song Surgeon has new detailed editing module that allows users to more precisely select areas for editing, and allows them to preview the actual edit before making it, so the correct placement of the edit area can be confirmed.
4-Beat Click Track Creation
Based upon the tempo detected by the ABD module, Song Surgeon can create and insert a 4 beat click track at the front of any song that has the same tempo as the song.
Change Bit Depth
Another new Edit feature in Version 5 is the ability to change the bit depth.
Redesigned GUI
Version 5 has an all-new redesigned User Interface. The redesign contains a main menu that puts the most commonly used functions at your finger tips. It also has a series of submenus that allow you to fine tune or customize the main menu features.
Marker – Jump To Buttons

Based upon user requests, we have added into Version 5 "jump to" buttons for Markers. These buttons allow you to jump backward and forward to the Markers, much like the jump to buttons do in earlier versions for loops.
For more detailed information about these new features please consult the written User Guide or view the Training Videos. If you are interested in buying, or if you'd like to take our fully functional free demo for a test drive, please click the appropriate red button near the top, right side of this page.