Online Key and Tempo Change Tool for Audio, Music and Songs
Song Surgeon is a high quality, audio, key and tempo change application. It contains a number of different algorithms that can process audio and return very high quality audio after key and/or tempo change. With 15 years of experience in the field, Song Surgeon is one of the few products in this category that has withstood the test of time.
In addition to our desktop application, Song Surgeon also has two other related online based tools. One is online key and tempo change and the second is an online vocal removal and instrument isolation tool. Both of these tools are available on a free trial basis. By signing up for a free account, users can process five files at no cost. If after this demonstration period, users find these tools helpful and would like to continue using them, we offer several different options, including 1-time and subscription based plans.
As shown below the online tool allows you to change the key, either in semi-tones (half steps) in in cents (1/100th of semitone). At the same time key is changes, users can also change the tempo of a song or file. Once you have your preliminary changes made you can preview them before you process the file and download it to your machine.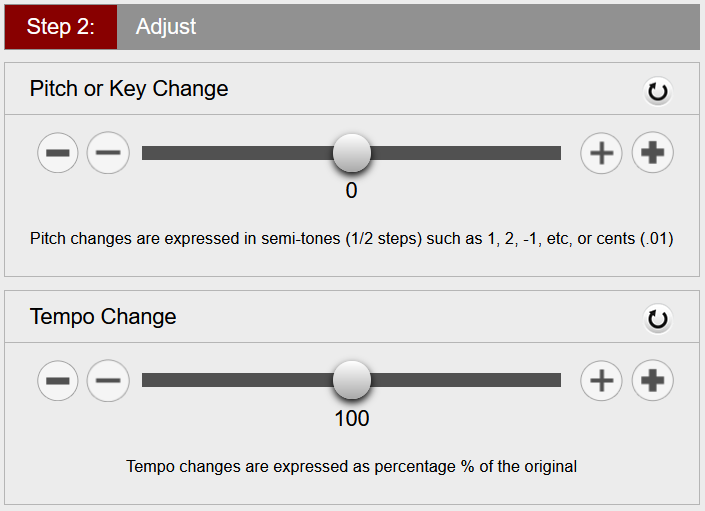 The second tool, mentioned above is a vocal elimination and instrument isolation tool. We call it the VRII tool for short. VRII uses artificial intelligence to constantly learn and improve. This tool was specifically designed to remove vocals from a song or file so, after processing, it returns a file that is the vocals only and a second file that is the mix without the vocals. Currently it works well (not perfectly) for the following instruments: vocals, drums, bass, piano, and guitar, in addition to vocals.
Like the online key and tempo tool, the VRII Tool has a free demo period during which you can process up to five files.
To learn more and sign up for a free trial to these tools click the links below.