Song Surgeon Trainer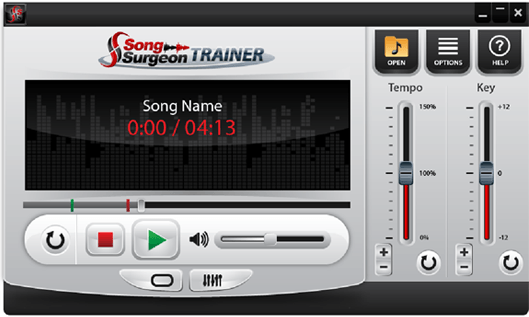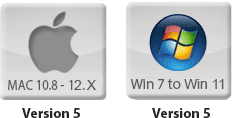 Song Surgeon Trainer is our entry level desktop audio slow downer. It changes key and tempo, allows the creation of one looping area for repetitive playing, and has a 9 band EQ. All of these features can be applied real time. Trainer is a very inexpensive program that allows musician access to the power of slowing down and looping audio as a learning tool. Results from our survey of musicians showed that slowing down a song or music piece as a means of practice increased the learning ability by an average of 614%.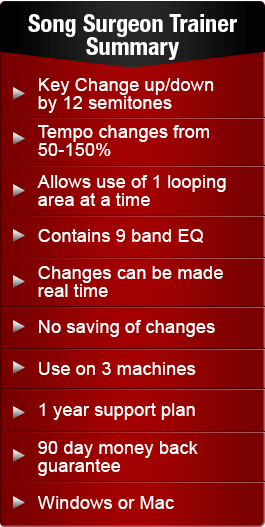 While the Standard and Pro models are clearly superior both in terms of features and sound quality, for a segment of users they have too many features - and for these people more is less. Trainer provides an inexpensive alternative that is very intuitive and easy to use - and has very little learning curve.
The two biggest differences between Trainer and these other two models is that Trainer doesn't have the ability to save changes to a file and, it uses an older time stretching algorithm, so audio quality after key and tempo change may not be as good, especially when substantial changes in key or tempo are made.
There also is one other important difference to note. Standard and Pro are built with the same architecture so you can easily upgrade from one to the other by buying the upgrade to Pro patch. Song Surgeon Trainer does not use the same architecture and therefore cannot be upgraded to Std or Pro.
Song Surgeon Trainer will be similar to Tascam's Voice, Guitar and Bass trainer products, but it is much less expensive. Song Surgeon Trainer can open most audio file formats, unlike the Tascam units which restrict access to only a few file types.
Your purchase of Song Surgeon Trainer allows you to activate it on three machines at any one time. It runs on both Windows (XP - Win 10) and Mac OSx (10.8 - 10.12) and comes with a 1 year, full service support plan.
download demo
Song Surgeon Trainer
order
Song Surgeon Trainer
Lear more about
Standard and pro