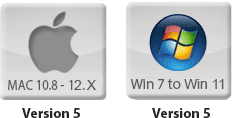 Song Surgeon Version 5
Video Tutorials
The following training videos have been filmed to show you how to use Version 5. We strongly recommend that you use them in conjunction with our written User Guide, which you can find here. These two resources will provide answers to most of your questions and help you come up the learning curve quickly.
Unlike previous years there are not separate videos for Mac and Windows. Regardless of which platform you use, the program is identically and functions that same.
If you are looking for Training Videos for older Song Surgeon versions, click here.